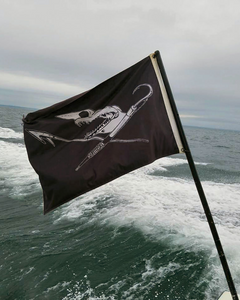 Skurge of the Sea Flag
$50.00
Mark your spot with the Skurge of the Sea, Pirate Fishing Flag! Our Skurge of the Sea Pirate Flag declares your stake of the seas! Fly high to warn others to back off you chum slick or spread... This Spot is Taken!! 
Landscape
Double Sided
3 Layers
Printed on 200D Knitted polyester
2 Grommets
Flag Dimensions: 24 X 36"
Caution: These Flags are TOUGH but please don not fly if you are going to run over 20 kts. for an extended length of time. Well, unless you want your flag to look like it has authentically endured Pirate fights! 
Got questions? Call a Pirate! 

Model: Flag1
Manufactured by: Skurge of the Sea